Aschenbrenner Elektronik GmbH
Maturate products are not recommended for new designs. Please ask for form-fit-function replacement
HPC 2000 Battery Pack and Battery Charger
type number 00684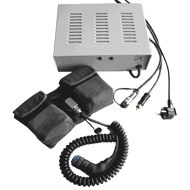 Battery Pack with charger
Description:
The external battery pack has been designed for field applications of the HPC 2000 hand-held computer system.
Mounted on users belt the battery powers the system up to 7 hours.

The batteries are shock proven and hermetically sealed for water and dust protection.
The length of the spiral cable between the battery pack and the system connector is between 0.45 and 2.5 m.

The charging characteristic is optimized for NiMH-batteries. The charge time for completely discharged batteries is approx. 2 hours. A built in temperature sensor controls the temperature directly at the batteries. In case of battery temperature is rising over
60 °C, the charge process will be stopped.
Options:
Other voltages
power class
interfaces
charging characteristics

Technical specifications
refer to data sheet: 00684
Technical Data:
| | |
| --- | --- |
| Technology: | NiMH |
| Capacity: | 4.5 AH |
| Voltage: | 24 V DC |
| Weight: | approx. 2.2 kg |
| Dimensions: | 230 x 120 x 60 mm (W x D x H) |
Charger - Technical Data:
Inputs voltages:
230 V AC / 0.5 A
18 V DC to 32 V DC / 3 A

Input connectors:
230 V AC: IEC 320 socket
DC: car-power-plug
Dimensions:
250 x 215 x 100 mm (W x D x H)
Battery over-temperature protection:
> 60 °C
when charging
Aschenbrenner Elekrtonik GmbH

Eschenweg 4-6
83022
Rosenheim
Germany
Phone: +49 (0) 8031 6506 - 0
Fax: +49 (0) 8031 6506 - 50
mail@aschenbrenner-elektronik.de
© copyright aschenbrenner elektronik GmbH