Aschenbrenner Elektronik GmbH
Maturate products are not recommended for new designs. Please ask for form-fit-function replacement
24 V DC Emergency Power Supply for Mobile Vehicle Use
type number 01116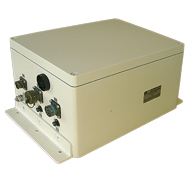 Main Features:
This emergency power supply is able to distribute power of about 10 A at least to a length of time > 30 min. after disconnecting from the input power.
Operation: normal operation means the input voltage is feed through to the output. When the input power is cut-off, the output is further powered from the battery without any break. Note that in this state the output voltage is equal the battery voltage, which will diminish by time and load.

The output connectors provide signals for "voltage ok" and "failure".
On "failure" there is also an acoustic alarm, resettable by signal lines on output connectors

Attention: there is no input circuit breaker, so the customer has to look for a suitable safety device in the input line.

Technical Data:
Input voltage
(nominal):
24 V DC

Input voltage:
18 V DC to 36 V DC
Output voltage
(nominal):
24 V DC
Battery capacity:
10 Ah
Battery charge
Current max.:
1.5 A DC

Efficiency charger:
> 80 %
Output overcurrent
protection:
automatic circuit breaker,
15 A, each output

operating
temperature:
-10 °C to +55 °C
(pending on Battery)
Acoustic alarm
signal:
Digital sounder type
MALLORY SC648

Mechanical Specifications:
| | |
| --- | --- |
| Dimensions: | 230 x 330 x 181 mm (W x H x D) without connectors |
| Weight: | < 17 kg |
| Safety: | EN60950 |
| EMC: | TBD |
This is a preliminary data sheet. Specifications are subjected to change.
Connectors:
Input: VG95234A-10SL-3PN
pin assignment:
A
B
C
24 V DC
24 V DC RTN
not connected, pin inserted
Output: SJT00RT14-97SN014 (2x)
pin assignment:
A
B
C
D
E
F
G
H
J
K
L
M
LED_A green, "Voltage ok"
LED_A red, "Failure"
not connected, pin inserted
not connected, pin inserted
not connected, pin inserted
not connected, pin inserted
not connected, pin inserted
not connected, pin inserted
pushbutton "Alarm off"
RTN for LED's and pushbutton
24 V DC (load)
24 V DC RTN (load)
Alarm Sounder is integrated.
LED_A's (anode connection) maybe directly powered by the device (build- in series resistor); pin "K" is the return RTN for the LED's cathode connection.
Pin "J": internal 1k0 pull-up-resistor to 5 Vdc; pin "K" is the return RTN. For activation "alarm off" the external pushbutton shorts pin "J" to return RTN pin "K"
Grounding: one M8- bolt nearby the connectors

Technical specifications
refer to data sheet: 01116
Aschenbrenner Elekrtonik GmbH

Eschenweg 4-6
83022
Rosenheim
Germany
Phone: +49 (0) 8031 6506 - 0
Fax: +49 (0) 8031 6506 - 50
mail@aschenbrenner-elektronik.de
© copyright aschenbrenner elektronik GmbH